Posted by: Jan on April 11, 2010
Categories: Events // Comments Off on Meet Me at the Spring Mind Body Spirit Fair in Madison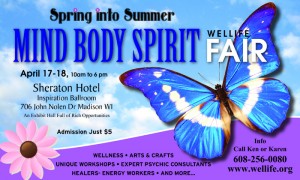 Join me at the "Spring into Summer Mind Body Spirit Fair" on April 17 and 18 at the Sheraton Hotel in Madison Wisconsin.
Embrace the mystery of self-awareness and learn specific techniques for success in your unique journey through life.
Attend my presentation on "How Past Lives Block Success," get a past life reading and clearing with me, browse the Exhibit Hall.
Learn about 'being' and how to empower yourself in special ways:
transform your life in coming months and for your future,
know what may be coming and how to deal with it,
avoid the pitfalls of life,
become a more awakened being!
Discover all this and more by ATTENDING the WELLIFE MIND BODY SPIRIT FAIR!
Admission: $5 includes full day of presentations, exhibits and more plus free parking.
25% of door admission goes to local non profit services in the community
Show OPENS at 10:00 am and CLOSES at 6:00 pm
If you come Saturday, return on Sunday for free
Remember FREE PARKING is available each day
Get your seat at my 12:00 presentation on Sunday, April 18.
Be there when I explain easy steps you can use to tap into a past life.
Discover the 13 core programs that create the unfinished business from past lives that block success in your life now.
Learn how to use your intuitive powers to disconnect from the negative effects of past lives that limit your finances, mess with your relationships, and sabotage your health.
Get there early. At the last expo, there was standing room only for this presentation.
Fair Special: Past Life Research and Clearing of the Past Life issues and challenges with Spiritual Response Therapy $40/20 minutes, $60/30 minutes. Exceptional and dynamic work. An excellent experience in the depth and power of SRT to help you upgrade, enhance, and transform yourself and your life experience.
************************************************************************
If you can't make it to the Fair but want to have a Past Life Reading and Clearing,
email me at Janice@OurSpiralJourney.com with the subject:
I Want a Past Life Reading and Clearing Too!
************************************************************************
Do it now while you're thinking about it. The sooner you have the reading and clearing work, the sooner you get the lift you need, the clarity you want, and the direction you desire.
Looking forward to working with you!
Janice M. Puta
Certified Teacher in Spiritual Response Therapy/Technique
Helping You Walk the Path to Healing and Wholeness
For classes and personal energy clearing sessions: Janice@OurSpiralJourney.com