Posted by: Jan on June 7, 2011
Categories: Events // Comments Off on Will You Help Them Build Their Future?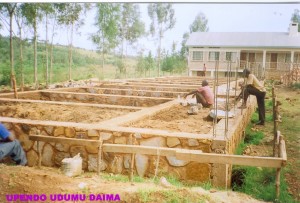 This is the start of the classrooms for the AIDS Orphan Sewing Project in Tanzania, Africa.
For the past several years, the sewing classes in this three-year program have been held in the nearby convent. As soon as these classrooms are completed, the Sewing Project will have a permanent home for the orphaned girls learning how to build their own future with these sewing skills.
In Africa, they don't get construction loans from the bank. When the money comes in, they build. When the money is used up, they stop building and wait.
Make a secure donation through PayPal to The AIDS Orphan Sewing Project right here.
It's urgent that these classrooms get built as soon as possible to continue the safe haven and hope these girls receive in this environment. Without the efforts of the Empowering Women's Future: The AIDS Orphan Sewing Project, these young orphans are at risk for being sold into slavery or human trafficking.
Read the history of how The AIDS Orphan Sewing Project was begun, and how it has helped the young girls who graduated create an empowering future for themselves. http://www.myeverydaymystic.com/empowering-womens-future-the-aids-orphans-sewing-project/
Remember to make your donation while you're thinking about it. You will be so glad you did… and the lovely souls you bless with your gift will bless you with their thanks and gratitude.
Blessings always,
Janice M. Puta, Cert. SRT
Spiritual Teacher and Mentor
Advocate for People and Animals
Our Spiral Journey, LLC